Divorce Filing Fee Waivers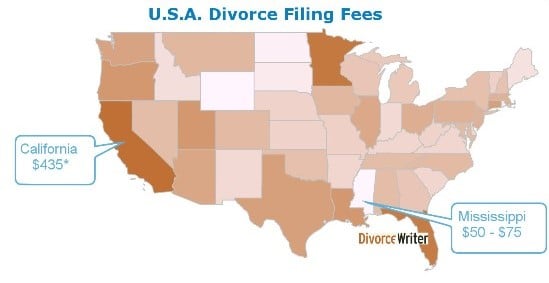 Every time a new divorce case is filed, the filer, known as the Petitioner or Plaintiff, must pay a filing fee. In some states, the filing fee is the same in all divorce courts statewide while in other states the fee varies by county. Across the U.S. filing fees range between $50 to $450. See the DivorceWriter article on Divorce Filing Fees to find out how much the courts in your state charge. However, if you cannot afford to pay the filing fee due to financial hardship, you can file a written request asking the judge to waive it.
How to Request a Filing Fee Waiver
The documents that you need to file to request a filing fee vary by state, but generally include a Petition/Motion to waive the filing fee and an Order for the judge to use to grant or deny the request. Some state fee waiver documents are just 1-2 pages total and ask for very basic income and expense information, and usually include an Order for the judge to sign. Other states require more detailed financial information in the form of a supporting affidavit or financial statement consisting of 2-5 pages, which the judge reviews in deciding whether the filer qualifies.
If your state requires a detailed affidavit or financial statement, it's important that you fill it out completely and accurately. Unless there are instructions to the contrary on the fee waiver form, enter "0" for dollar amounts that don't apply and enter "none" if you don't have a particular type of property. If you're asked to provide the fair market value for an item of property, you are being asked to give a good faith estimate of the price that you could sell the item for rather than the replacement value. Do not leave spaces blank. If your signature needs to be notarized, make sure you don't sign until you are in front of a Notary Public.
Qualifying for a Fee Waiver
Anyone is entitled to file a fee waiver request, but generally, if one of the following applies, your fee waiver will be granted:
You are currently eligible for government assistance [such as AFDC, TANF, food stamps, etc.]; or
Your household income that is 125% or less than the current poverty level as established by the U.S. Department of Health and Human Services. Note that there are three poverty level charts—one for Alaska, one for Hawaii and one for the remaining 48 states and Washington D.C.
If neither of those applies, you must show the court that paying the filing fee would result in a substantial hardship due to your current financial situation. Depending on the state and judge, you will be asked to provide paystubs and other documentation of income, usually between 2 to 12 months' worth.
If the Fee Waiver Request is Granted
Once you have accurately and completely filled out the fee waiver documents required in your state, file them with the Court Clerk. In most states, you will file the fee waiver request along with the other documents your state requires to open a divorce case. The judge will review the fee waiver and then decide whether to grant it. If your fee waiver is granted, the Clerk proceeds with opening your divorce case.
In some states, if your fee waiver is granted, you still have a duty to advise the court if your financial circumstances improve while the divorce is pending, allowing you to afford the fee. In California, if your fee waiver is granted you must tell the court within 5 days if you become able to pay. Florida filers who are determined to be indigent (unable to pay) must enroll in the Clerk's payment plan and pay a one-time $25.00 administrative fee.
If the Fee Waiver Request is Denied
If your request for a fee waiver is denied, you can file a motion requesting that the judge review it. Usually, you'll have a limited number of days for seeking a review of the denial. In Arizona, for example, if your fee waiver is denied you must either pay the fees within 20 days or request a hearing on the denial. Indiana also allows 20 days for payment of fees if the request is denied.
In some states, the fee waiver documents may include a request to waive other fees that may come up in a divorce case like parenting class fees and/or sheriff's fees for service of process, if applicable. In Connecticut, the fee waiver application includes a request to waive parenting education class fees.
Waiver vs. Deferral
A fee waiver is different from a fee deferral. If your fee is waived, you should not ever be asked to pay the filing fee unless, of course, your financial situation improves and you live in a state that requires you to keep the court advised if you become able to pay while your divorce is pending. With a fee deferral, the fee is not necessarily going to be waived, although the judge may ultimately not require you to pay. The benefit of a fee deferral is that you can file for divorce now, but pay the filing fee later, although in some cases the judge may decide to not require you to pay it at all. In Maryland, you first file Request for Waiver of Prepaid Costs, which is a fee deferral request. If it is granted, you can file for divorce, but before the divorce is finalized, you must file a Request for a Final Waiver of Open Costs to ask the judge to permanently waive the fee.
Serve Your Spouse with a Copy of the Fee Waiver Request
In many states, your spouse must be properly served with a copy of the fee waiver documents you filed with the court clerk. You can simply include it with the other documents you filed when you deliver a copy to your spouse or his/her attorney, if represented by counsel.
State
Divorce Fee Waiver Documents
Alaska
Request for Exemption from Payment of Fees and Order (TF-920)
Alabama
Affidavit of Substantial Hardship and Order (C-10)
Arizona
Application for Deferral or Waiver of Court Fees and/or Costs and Consent to Entry of Judgment and Order
Arkansas
Petition for Leave to Proceed in Forma Pauperis and Order
California
Request to Waive Court Fees (FW-001)
Order on Court Fee Waiver (FW-003)
Colorado
Motion to File Without Payment of Filing Fee and Supporting Financial Affidavit (JDF 205)
Finding and Order Concerning Payment of Filing Fees (JDF 206)
Connecticut
Application for Waiver of Fees/Appointment of Counsel Family (JD-FM-75)
Delaware
Affidavit in Support of Application to Proceed In Forma Pauperis and Order (Form 257p)
District of Columbia
Application to Proceed without Prepayment of Costs Fees, or Security (in Forma Pauperis) and Order (Form 106A)
Florida
Application for Determination of Civil Indigent Status
Georgia
Pauper's Affidavit and Order
Hawaii
Ex Parte Motion and Affidavit to Waive Filing Fees
Idaho
Motion and Affidavit for Fee Waiver and Order (CAO 1-10B)
Illinois
Application for Waiver of Court Fees (WA-P 603.2)
Order (WA-O 604.2)
Indiana
Verified Motion for Fee Waiver and Order
Iowa
Application and Affidavit to Defer Payment of Costs (Form 209)
Kansas
In Forma Pauperis Affidavit and Order
Kentucky
Motion and Order to Proceed without Paying Court Costs with Affidavit
Louisiana
In Forma Pauperis Affidavit
Maine
Application to Proceed without Payment of Fees (CV-067)
Indigency Affidavit CR-032
Maryland
Request for Waiver of Prepaid Costs
Request for a Final Waiver of Open Costs
Massachusetts
Affidavit of Indigency and Request for Waiver, Substitution or State Payment of Fees and Costs
Supplement to Affidavit of Indigency; Determination Regarding Fees and Costs
Michigan
Waiver/Suspension of Fees and Costs (Affidavit and Order)
Minnesota
Affidavit for Proceeding In Forma Pauperis (IFP102) and Order (IFP104)
Mississippi
Affidavit to Commence or Continue Suit Without Prepayment or Payment of Court Costs
Order Regarding Affidavit of Poverty
Missouri
Motion and Affidavit in Support of Request to Proceed As a Poor Person
Montana
Affidavit of Inability to Pay Filing Fees and Other Costs in Accordance with 25-10-404 - 406, MCA
Nebraska
Affidavit and Application to Proceed In Forma Pauperis (Request to Proceed without Payment of Fees) DC 6:7(1)
Order to Proceed In Forma Pauperis DC 6:7(2)
Nevada
Application and Affidavit to Proceed In Forma Pauperis
Order to Proceed In Forma Pauperis
New Hampshire
Motion for Waiver of Court Fees (NHJB-2311-S)
Financial Affidavit (NHJB-2065-FS)
New Jersey
Request for Waiver of Fees and Supporting Certification
Order Waiving Fees
New Mexico
Application for Free Process and Affidavit of Indigency
New York
Affidavit in Support of Application to Proceed as a Poor Person
Poor Person Order
North Carolina
Petition to Sue/Appeal/File as an Indigent (AOC-G-106)
North Dakota
Petition for Waiver of Fees; Financial Affidavit in Support of Petition for Waiver of Fees
Order Waiving Fees
Ohio
Motion to Proceed In Forma Pauperis
Affidavit to Proceed In Forma Pauperis
Oklahoma
Pauper's Affidavit and Order
Oregon
Application & Declaration for Deferral or Waiver of Fees
Order Regarding Deferral or Waiver of Fees
Pennsylvania
Petition to Proceed In Forma Pauperis and Affidavit and Order
Rhode Island
Verified Motion to Proceed In Forma Pauperis and Order
South Carolina
Motion and Affidavit to Proceed In Forma Pauperis and Order
South Dakota
Affidavit of Indigency
Order Waiving Filing Fee and Service of Process Fee
Tennessee
Request to Postpone Filing Fees and Order (Uniform Civil Affidavit of Indigency)(Form 3)
Texas
Affidavit of Inability to Pay Costs
Utah
Motion and Affidavit to Waive Fees
Financial Affidavit Supporting Motion to Waive Fees
Vermont
Application to Waive Filing Fees and Costs
Virginia
Petition for Proceeding in Civil Case without payment of Fees or Costs (Form CC-1414)
Washington
Motion and Declaration for Waiver of Civil Filing Fees and Surcharges
Order Re Waiver of Civil Filing Fees and Surcharges
West Virginia
Financial Affidavit and Application: Eligibility for Waiver of Fees, Costs, or Security in a Civil or Domestic Case
Wisconsin
Petition for Waiver of Fees and Costs – Affidavit of Indigency and Order (CV-410)
Wyoming
Affidavit of Indigency; Order on Indigency